astara Connect x Targa Telematics: an strategic partnership that enhances mobility data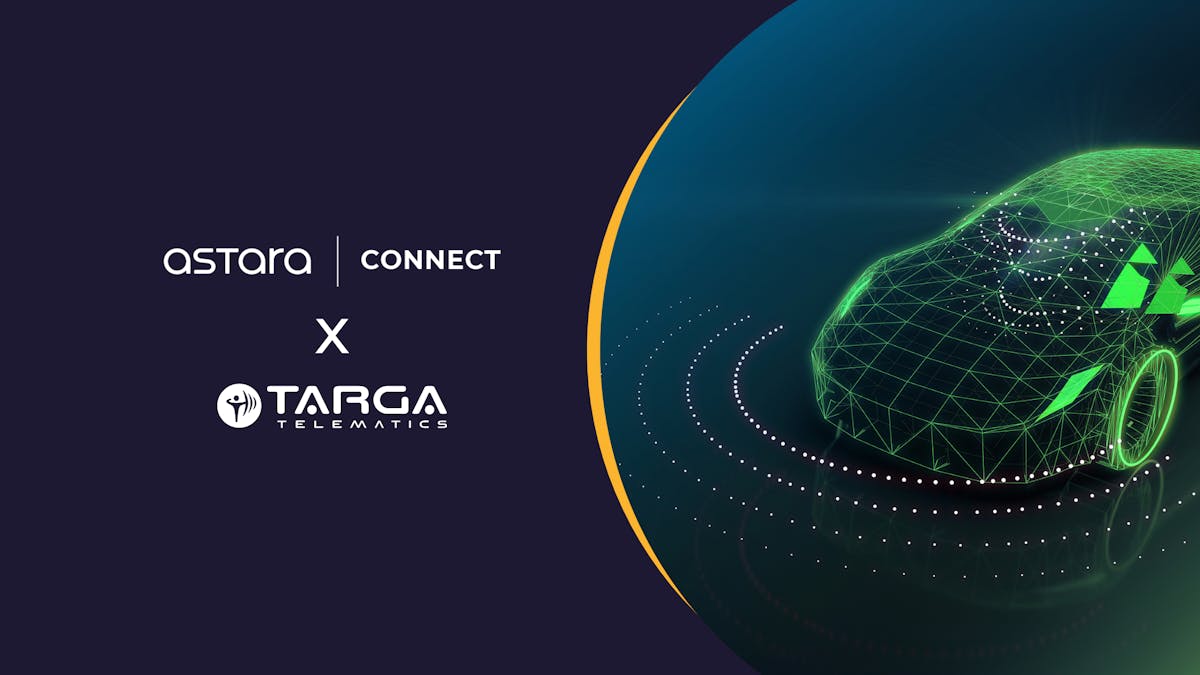 We are thrilled to announce a significant milestone in our journey. As part of our commitment to provide you with the best-in-class mobility data solutions, we are excited to share that we have formed a strategic partnership with Targa Telematics, a technology company specializing in the development of Internet of Things (IoT) solutions and digital platforms for connected mobility.
This collaboration is set to revolutionize the efficiency, security and sustainability of future mobility by integrating advanced connectivity, artificial intelligence and cutting edge technology.
Driving connectivity to new heights
At astara Connect, we have always been dedicated to delivering unparalleled insights and analytics to optimize your mobility operations. Our focus has consistently been on harnessing the power of internal technology to drive innovation and efficiency in the field of connected mobility. With the integration of Targa Telematics' expertise and resources, we are poised to take this commitment to the next level.
This brand new partnership, will add to this equation cutting-edge technology in the collection, analysis and transmission of telematics vehicle data. The seamless integration of data streams will enable the development of new innovative mobility services based on integrated Targa Telematics devices.
Expanding reach and quality of mobility data
One of the key goals of this partnership is to expand the reach of our connectivity solutions. Targa Telematics' extensive network and cutting-edge technology will help us access a wider range of vehicles, enabling us to provide you with even more comprehensive and diverse mobility data.
But it's not just about quantity; it's also about quality. Targa Telematics shares our dedication to data accuracy and reliability. With their support, we are confident in our ability to enhance the quality of the data we collect and deliver. This means more accurate insights, improved decision-making, and greater operational efficiency for our clients.
Nicola De Mattia, CEO of Targa Telematics, commented:
At Targa Telematics we are committed to building a connected mobility ecosystem that promotes efficiency and sustainability. The strategic alliance with an industry leader like astara will strengthen our ability to develop cutting-edge technologies that respond to the evolving needs of our customers. Together, we are committed to driving smarter, safer and more sustainable mobility for all.
Jose Garcia Pacheco, astara's Chief Innovation Officer and Managing Director of astara Connect:
It is becoming increasingly clear that the mobility of the future will have data at its core, which is key to achieving the goals of modern corporations. By obtaining accurate, real-time measurements of their assets based on high-quality data, we can design even more effective and innovative solutions that contribute to the achievement of these goals and to more sustainable and advanced mobility.
What this means for you
Our partnership with Targa Telematics is a testament to our commitment to staying at the forefront of the connected mobility industry. It means that when you choose astara Connect, you're not just getting a solution; you're gaining a strategic advantage. Here's what you can expect:
More comprehensive insights: Access to a broader range of vehicle data for a more complete understanding of your mobility ecosystem.
Enhanced accuracy: High-quality data that you can trust for making critical decisions and optimizing your operations.
Greater reach: Expanded connectivity that ensures we can serve your needs across a wider geographic area.
Innovation: The power of collaboration between astara Connect and Targa Telematics to drive continuous innovation in connected mobility technology.
Join us on this Journey
We're excited about the future and the opportunities this partnership brings. Together with Targa Telematics, we're embarking on a journey to revolutionize mobility data analytics. We invite you to join us on this exciting ride as we continue to gain, normalize, and improve mobility data for your success.
At astara Connect, we are committed to delivering excellence in connected mobility solutions, and this partnership is a significant step in that direction. Stay tuned for more updates on how we are transforming the connected mobility landscape.
For any questions or inquiries about how this partnership impacts your organization, please don't hesitate to contact us.
Stay Connected. Stay Ahead. astara Connect.